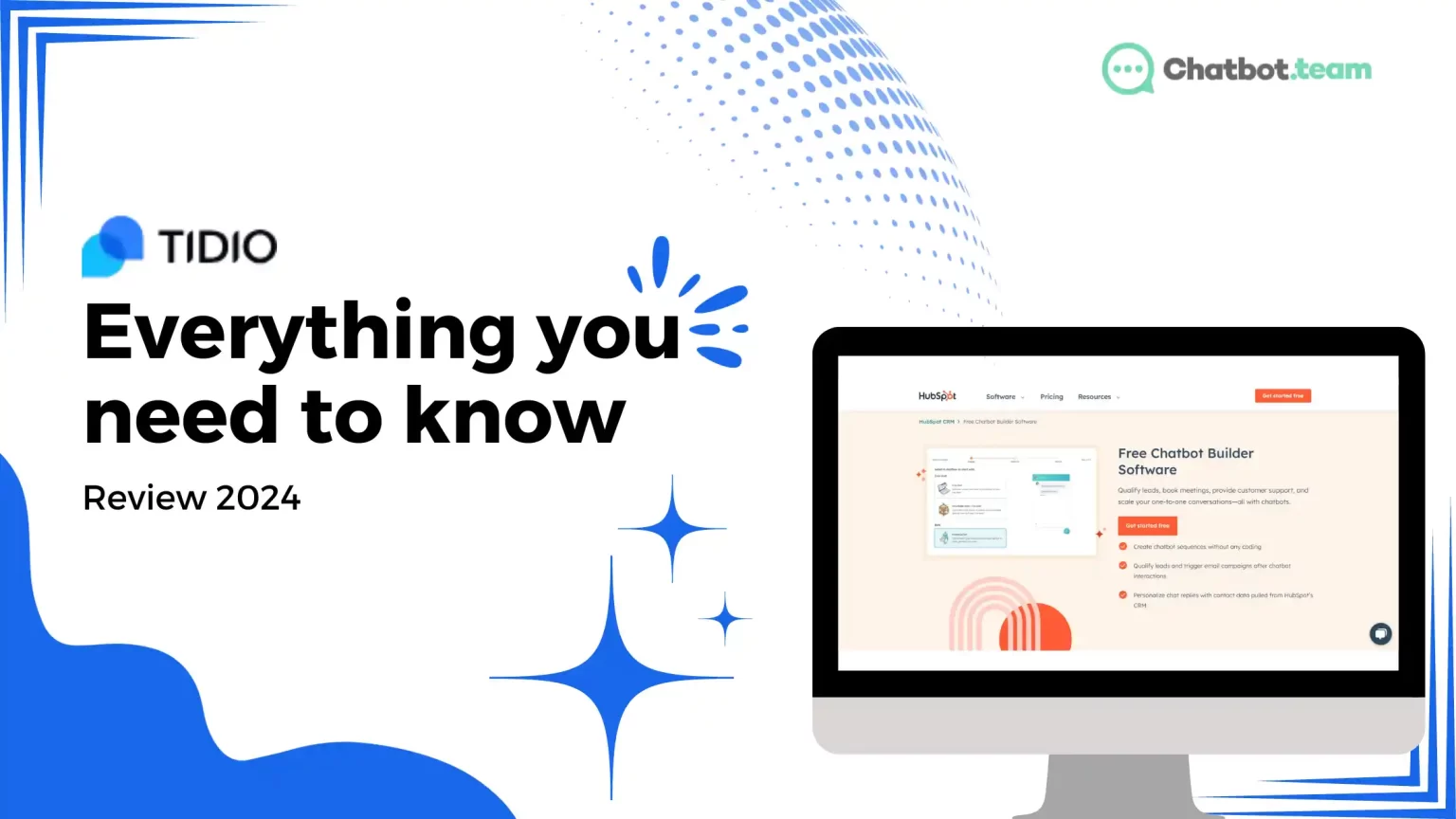 Tidio stands out as a top-tier live chat platform that excels in enhancing sales by improving customer service. It combines the power of live chat with intelligent bots, making it an ideal choice for website interactions. While its primary focus is on websites, Tidio also extends its capabilities to Facebook Messenger and Instagram. Users benefit from the flexibility to personalise chat widgets, sidebars, and chat pages to suit their specific needs.
It is a software that is used on over 300,000 websites worldwide. It includes features like buildable chatbot workflows and email marketing templates.
Tidio is a comprehensive platform tailored for businesses seeking real-time communication with their website visitors and customers. It encompasses an array of communication tools, such as the incorporation of live chat widgets into websites, chatbot capabilities, and robust email marketing features. Among its notable attributes, Tidio features live chat functionality, incorporates chatbot capabilities, supplies a suite of email marketing tools, integrates seamlessly with popular e-commerce platforms, facilitates visitor tracking, and empowers businesses with a dedicated mobile app for efficient live chat management and effective communication.
Who is the Founder Of Tidio?
Marcin Wiktor, Titus Golas are the founders of Tidio.
Tidio has a rating of 4.7/5 (1400+ ratings) and is considered to be best for small and medium businesses. This is comparatively higher than the other platforms like Smartsupp, Crisp, Intercom, LiveAgent, LiveChat, Podium, Zoho Desk, Tawk.to, Hubspot, Drift and such more.
Suitable for up to 3 chat operators.
Allows you to configure up to 100 chatbot triggers.
Includes 50 live chats.
Multilingual widgets are included.
2. Starter Plan - $29/month
Designed for up to 3 chat operators.
Enables you to set up 500 chatbot triggers.
Includes 100 live chats.
Chat console displays a list of live visitors.
3. Communicator Plan - Pricing per Agent
Can add up to 40 agents.
Offers all the features of the free plan.
Provides unlimited chats.
Includes 100 chatbot triggers.
Features live typing, viewed page, and a live visitors list.
Grants the ability to set permissions.
Suitable for up to 3 chat operators.
Allows for 2-40,000 chatbot triggers/conversations.
What Kind of chatbot elements does Tidio have?
Tidio primarily focuses on chat and communication features for websites, below are the elements that Tidio consists of:
Delays: Tidio allows for automated responses through chatbots, so you can create sequences of responses with delays between them to simulate natural conversations.
Images: Tidio typically supports image sharing within chat conversations.
Video: Tidio may support video sharing within chat conversations.
Audio: Tidio may support audio sharing within chat conversations.
Attachments: You can often send and receive file attachments in Tidio chat conversations.
Gallery (Horizontal list): Tidio may support the creation of horizontal lists or carousels of images or content to showcase products or information.
Vertical list: Similar to horizontal lists, you can often create vertical lists or menus within Tidio to guide users or showcase options.
Emojis: Tidio typically supports the use of emojis within chat conversations to add emotive elements to messages.
Persistent Menu: Some chatbot configurations in Tidio may allow for a persistent menu, which provides users with a set of options they can access at any time during a chat.
Quick Replies: Quick replies, which are predefined response options, are often supported in Tidio to streamline interactions with users.
Buttons: You can often create interactive buttons in Tidio to guide users or allow them to make selections within the chat.
Free text input: Tidio typically allows users to enter free-text messages during chat conversations.
Location sharing: Tidio may support location sharing, allowing users to share their location with the chatbot or agent.
Email validation: Tidio may have features to validate email addresses provided by users within the chat.
Phone number validation: Tidio may support phone number validation within chat conversations.
Date validation: Tidio may support date validation, especially if you're using chatbots to collect or validate information.
Tidio functions as a communication and engagement platform with a primary focus on enhancing customer interactions on websites. An overview of the typical workings of Tidio is given below:
Integration: To begin using Tidio, website owners or administrators must integrate Tidio's chat widget into their website. This integration usually involves inserting a small piece of code supplied by Tidio into the website's HTML or utilising a plugin or integration compatible with their platform.
Live Chat Widget: Once integrated, Tidio furnishes a live chat widget that becomes visible on the website. This widget enables website visitors to initiate conversations with the business or support team.
Visitor Engagement: Upon initiating a chat, website owners or support agents can promptly respond in real-time through Tidio's chat interface. This facilitates swift and effective communication with visitors, encompassing addressing inquiries, delivering assistance, or guiding them through the website.
Chatbot Assistance: Tidio incorporates chatbot functionality, which can be configured to manage common queries or trigger predefined conversations. Chatbots offer automated responses and assist with routine tasks, freeing human agents to tackle more complex inquiries.
Email Marketing: Tidio equips businesses with email marketing tools that permit the collection of email addresses from website visitors for marketing purposes. Automated email campaigns can be configured to engage and nurture leads.
Visitor Tracking and Analytics: Tidio typically includes features for visitor tracking and analytics. These tools provide insights into visitor behaviour, including the pages they visit and their interactions with the chat widget. This data is invaluable for optimising engagement strategies.
Customization: Tidio allows users to personalise the appearance and behaviour of both the chat widget and chatbots to align with their branding and specific requirements.
Mobile App: Tidio often provides a mobile app, empowering businesses to manage live chats and communication efforts while on the move. This proves especially valuable for addressing customer inquiries beyond regular office hours.
Reports and Insights: Tidio may offer reports and insights that aid businesses in gauging the effectiveness of their chat and communication strategies. This includes data on chat volume, response times, and customer satisfaction.
CRM Integration: Certain versions of Tidio might support integration with Customer Relationship Management (CRM) systems, centralising customer information and enhancing customer relationship management.
In essence, Tidio elevates customer engagement by facilitating real-time communication, leveraging chatbots for automated responses, and supplying tools for email marketing and analytics. Its design is centred around helping businesses deliver outstanding customer support and cultivate leads through their websites.
Tidio serves as an all-encompassing communication and engagement platform tailored for businesses, boasting a rich array of essential components and functionalities:
Live Chat: Tidio boasts a live chat feature enabling businesses to interact with website visitors and customers in real-time, facilitating swift responses to inquiries and issues.
Chatbots: Tidio incorporates chatbot capabilities, automating responses to common queries and triggering predefined conversations.
Email Marketing: The platform equips businesses with email marketing tools, facilitating email collection, automated campaigns, and audience segmentation.
Visitor Tracking: Tidio typically includes visitor tracking and analytics, furnishing valuable insights into user behaviour on websites.
Integration: Tidio provides integrations with popular e-commerce platforms, content management systems, and diverse software tools, streamlining communication and data management.
Mobile App: Tidio often offers a mobile app, empowering businesses to oversee live chats and communication on the move.
Customization: Users typically enjoy the ability to tailor the appearance and behaviour of live chat widgets and chatbots to harmonise with their branding and unique requirements.
Multi-Language Support: Tidio may extend multilingual support, facilitating engagement with customers in diverse languages.
Permissions and Access Control: Certain plans encompass features for configuring permissions and access control, aiding in the management of multiple agents and team members.
Reports and Analytics: Businesses often access comprehensive reports and analytics, aiding in the assessment of chat and communication strategies' effectiveness.
Knowledge Base: Some Tidio versions may include a knowledge base feature, facilitating the creation and management of helpful articles and FAQs.
CRM Integration: Tidio may offer integration with Customer Relationship Management (CRM) systems, simplifying the management of customer interactions and data.
How easy is the user interface Tidio has?
Tidio is purposefully crafted to deliver an effortlessly accessible user interface, catering to users of all levels, whether they are novices or seasoned experts. The platform's UI is typically characterised by its intuitive and user-friendly design, with the primary aim of streamlining the configuration and administration of communication tools on your website. Below are compelling reasons behind Tidio's reputation for its user-friendly interface:
Drag-and-Drop Chatbot Builder: Tidio frequently boasts a visual chatbot builder, permitting users to create and tailor chatbots through a simple drag-and-drop process. This empowers users to easily craft automated conversational flows.
Live Chat Management: The management of live chat interactions within Tidio is typically a straightforward process. Its chat interface is thoughtfully designed for user-friendly navigation, allowing users to promptly address customer inquiries while effortlessly accessing chat history.
Widget Customization: Tidio usually offers an array of customization options for chat widgets. This enables users to fine-tune the appearance and behaviour of chat widgets to harmonise with their branding and website aesthetics, and this customization is typically a user-friendly endeavour.
Integration with Websites: The integration of Tidio's chat widget into your website is often uncomplicated. It usually involves a simple process such as embedding a small code snippet into your website's HTML or employing plugins and integrations compatible with your platform.
Predefined Templates: Tidio may present users with a selection of predefined chatbot templates and responses, simplifying the initiation of common scenarios like lead generation or customer support.
Analytics and Reporting: Tidio generally furnishes user-friendly analytics and reporting tools, facilitating the tracking of communication efforts' performance with ease.
Mobile App: If Tidio provides a mobile app, it typically features an intuitive mobile interface, granting users the ability to seamlessly manage chats and communication while on the move.
Knowledge Base and Support: Tidio often equips users with comprehensive documentation and robust customer support resources. This support is aimed at aiding users in navigating the platform effectively and addressing any inquiries or challenges.
User-Friendly Dashboard: Tidio's dashboard is usually thoughtfully designed, presenting key features and functionalities in a clear and organised manner. This user-centric approach simplifies the management of chatbots, live chats, and other communication components.
Tidio's user interface is tailored to empower users to harness its communication and engagement tools effortlessly, ensuring a positive and productive experience.
While Tidio is widely recognized for its user-friendly interface, as with any software, it can still pose certain intricacies and challenges, contingent on a user's specific requirements and familiarity with the platform. Here are several potential complexities and obstacles that users may encounter when utilising Tidio:
Complex Customization: Tidio provides customization options for chat widgets and chatbots. However, users seeking highly specialised design or functionality adjustments might encounter complexity in the customization process. Achieving intricate and tailored chatbot behaviours may necessitate advanced configurations.
Technical Integration: Integrating Tidio with specific website platforms or custom-coded websites could prove challenging for users lacking coding or web development expertise. Complex integrations may demand technical proficiency.
Chatbot Scripting: While Tidio offers a visual chatbot builder, users aiming to implement complex or highly specific chatbot scripts may find it daunting without a solid grasp of chatbot logic and scripting.
Interpreting Analytics: Tidio's analytics and reporting tools are valuable, but deciphering the data and extracting actionable insights might pose a learning curve for users unaccustomed to analysing such metrics effectively.
Managing High Chat Volumes: Businesses dealing with substantial chat traffic may face challenges in managing and responding to numerous inquiries in real-time. Ensuring prompt responses and efficient customer service may necessitate additional resources and careful management.
Advanced Use Cases: Tidio's out-of-the-box capabilities may not cater to highly specialised or advanced use cases. Users with unique requirements might need to explore custom solutions or supplementary integrations.
Training and Onboarding: Familiarizing team members or agents with Tidio, particularly for intricate workflows or specific business processes, may demand thorough training and onboarding efforts.
Mobile App Constraints:
Although Tidio typically offers a mobile app for on-the-go chat management, users may encounter limitations regarding feature parity with the web interface, particularly when dealing with advanced configurations.
The pros of Tidio are mentioned below:
Enhanced Customer Engagement: Tidio enables real-time interactions with website visitors through its live chat and chatbot features, ensuring prompt responses and effective customer support.
24/7 Accessibility: Tidio's chatbots provide uninterrupted support, allowing businesses to assist customers at any hour, including outside regular business hours.
Increased Lead Generation: Tidio's chatbots can be leveraged to gather visitor information and nurture potential leads, strengthening lead generation efforts.
Tailored Customization: Users typically enjoy the flexibility to personalise the appearance and behaviour of Tidio's chat widgets and chatbots, aligning them with their branding and specific preferences.
User-Friendly Interface: Tidio is renowned for its intuitive and easily navigable interface, accommodating users of varying levels of experience.
Email Marketing Expertise: Tidio equips businesses with robust email marketing tools, facilitating the collection of email addresses and the automation of email campaigns.
Comprehensive Analytics and Reporting: Tidio typically provides a comprehensive suite of powerful analytics and reporting features, empowering businesses to monitor the effectiveness of their communication strategies and make informed decisions.
Effortless Integration: Tidio seamlessly integrates with popular e-commerce platforms, content management systems, and various software tools, simplifying communication and data management procedures.
Collectively, these benefits emphasise Tidio's versatility as a valuable asset for businesses aiming to improve customer interactions, boost lead generation, and simplify communication procedures on their websites.
Tidio, as a live chat and chatbot platform, presents a range of features catering to businesses seeking to engage with their customers and website visitors. While Tidio offers advantages, it also exhibits certain drawbacks. Here are some of the disadvantages associated with Tidio:
Restricted Free Plan: Tidio provides a free plan with limited features, which might not suffice for larger enterprises or those with intricate requirements. Accessing advanced functionalities necessitates subscription to their paid plans, which can incur substantial costs.
Costly Pricing Structure: Tidio's pricing can be relatively high, particularly for small businesses or startups operating on tight budgets. In some cases, the expense may not align with the features and capabilities offered, potentially making it less affordable for certain businesses.
Limited Customization Options: While Tidio does offer customization possibilities, the extent of customization may not meet the demands of businesses aiming to create highly tailored chatbots or personalised live chat experiences. This constraint could impede your ability to address specific business needs effectively.
Integration Challenges: Tidio may not seamlessly integrate with all the software and platforms your business relies on. It's essential to verify compatibility with your CRM, e-commerce platform, and other vital tools before adopting Tidio.
Steep Learning Curve: The setup and configuration of Tidio, particularly when creating custom chatbots, can be intricate and time-consuming. Small businesses lacking dedicated IT or technical support may encounter difficulties navigating this learning curve.
Limited Reporting and Analytics: Tidio's reporting and analytics capabilities are somewhat limited when compared to more specialised tools. If your business necessitates in-depth insights into customer interactions and behaviours, you might find these features lacking.
Performance and Reliability Concerns: Like any software, Tidio is susceptible to occasional performance issues or downtime. Reliability is crucial for maintaining seamless customer support and engagement, making interruptions frustrating for both businesses and their clientele.
Language Support Variability: While Tidio does support multiple languages, the quality of its language processing capabilities may not match up to some competing platforms. This could potentially result in communication challenges when dealing with non-English-speaking customers.
Limited Security Features: Depending on your business's security requirements, you might discover that Tidio lacks certain security features. This could be a concern, especially if your business handles sensitive customer data.
Customer Support Concerns: Some users have reported issues with Tidio's customer support, citing delayed response times or unhelpful assistance. Such challenges can be frustrating, particularly when encountering technical problems or needing assistance with customization.
How is the Customer support of Tidio?
Customer support experiences can vary depending on individual cases and expectations. Here are some common observations about Tidio's customer support:
Response Time: Some users have reported relatively quick response times from Tidio's support team, especially for basic inquiries and issues. However, the response time may vary based on the complexity of the problem and the support package you have.
Availability: Tidio offers customer support through various channels, including email and live chat. Users generally found it convenient to reach out for assistance. The availability of support may depend on your subscription plan, with premium plans likely receiving more extensive support options.
Quality of Assistance: Opinions on the quality of Tidio's customer support have been mixed. While some users praised the support team for their helpfulness and problem-solving skills, others reported less satisfactory experiences, including issues with receiving unhelpful or generic responses.
Resource Availability: Tidio also provides a knowledge base and documentation for users to find answers to common questions and troubleshoot issues independently. Some users have found these resources helpful in resolving their concerns without needing to contact support.
Proactive Support: Tidio occasionally reaches out to users with tips, updates, and educational content to help them make the most of the platform. This proactive approach has been appreciated by some users.
Customization and Development Support: For users requiring advanced customization or integration assistance, the quality of support may depend on your specific requirements. Some users have reported challenges in getting the level of technical support needed for complex customizations.
Available Integration Options in Tidio
Tidio offered various integration options to help businesses connect their live chat and chatbot functionalities with other tools and platforms.
Website Platforms and Content Management Systems (CMS): WordPress, Shopify,Wix, Joomla, Drupal, Squarespace
E-commerce Platforms: WooCommerce, Magento, BigCommerce, PrestaShop, OpenCart, Ecwid
Customer Relationship Management (CRM) Systems: HubSpot, Salesforce, Zoho CRM, Pipedrive, Agile CRM
Email Marketing Services: Mailchimp, Constant, Contact, GetResponse, ActiveCampaign
Social Media Platforms: Facebook, Instagram, Twitter
Analytics and Tracking Tools: Google Analytics, Google Tag Manager
Payment Gateways: PayPal, Stripe
Help Desk and Ticketing Systems: Zendesk, Freshdesk
Survey and Feedback Tools: SurveyMonkey
E-commerce Analytics: Metrilo
Sales and Marketing Automation: SendinBlue, Drip
Developer and API Access:
Tidio also provides an API (Application Programming Interface) that allows developers to create custom integrations with other software and platforms.
Tidio offers four distinct plans in their lineup.
The 'Free' plan encompasses live chat, chatbot, and mailing features, catering primarily to micro and small businesses.
The remaining three plans function as individual add-ons to the 'Free' plan. They are entirely independent of one another and are available for separate purchase.
While the plans commence with a base price, additional costs may apply based on your utilisation of the enhancements included within each plan.
Tidio is widely acknowledged for its secure platform, but taking specific precautions is of utmost importance to protect the security and privacy of your data and interactions with customers. Here are crucial factors to keep in mind:
Ensuring Data Security: Tidio typically implements protective measures for your data, including customer chat interactions. They utilise encryption protocols to secure data transmission between your website and their servers. Nevertheless, it's prudent to routinely assess their current security practices and policies to ensure they align with your business's security needs.
Understanding Privacy Policies: Take the time to meticulously examine Tidio's privacy policies. This provides valuable insight into how they handle and store data. Confirm that their practices comply with pertinent data protection regulations in your region, such as GDPR (General Data Protection Regulation) in the European Union or CCPA (California Consumer Privacy Act) in California.
Implementing Robust User Authentication: Bolster the authentication methods for your Tidio account to prevent unauthorised access.
Controlling Access: Restrict access to your Tidio account solely to authorised personnel. If available, leverage role-based access controls to effectively manage permissions.
Data Retention Policies: Familiarise yourself with Tidio's data retention practices, including their data retention durations. Consider the option of establishing your own data retention policies if necessary.
Securing Integrations: When integrating Tidio with other tools or platforms, exercise caution to ensure that these integrations do not compromise the security of your data.
Staying Current with Updates: Keep Tidio and any associated plugins or software up to date by promptly applying the latest security patches and updates. This practice serves to mitigate potential vulnerabilities.
Prudent Handling of Customer Data: Exercise discretion when collecting and sharing data via Tidio, especially when dealing with sensitive customer information. Share such data only when absolutely essential for your business operations.
Third-Party Service Evaluation: When utilising third-party services through Tidio, such as payment gateways or CRM systems, meticulously verify that these services also uphold rigorous security standards and adhere to pertinent regulations.
Team Training and Awareness: Equip your team members who use Tidio with comprehensive training on data security best practices and ensure they are well-versed in the proper handling of customer interactions.
How to get started with Tidio?
Embarking on your Tidio journey entails a systematic process, encompassing tasks from creating an account to configuring live chat and chatbots on your website. Below is a comprehensive guide to navigate this process smoothly:
1. Account Creation and Login:
Visit the Tidio website at https://www.tidio.com/.
Click on the "Get Started for Free" or a similar button to commence your account registration.
Provide your email address and establish a password.
Follow the account setup instructions delivered to your email.
Upon successful account creation, access the Tidio dashboard by logging in using your email and your chosen password.
After logging in, you'll receive guidance on integrating Tidio with your website.
Select the integration platform or method that aligns with your preferences.
Tidio offers plugins and guidance for various website builders and content management systems, including WordPress, Shopify, and others.
Follow the integration instructions tailored to your chosen platform, ensuring the seamless installation of the Tidio widget onto your website.
3. Customising Your Chat Widget:
Following successful integration, personalise the appearance of your chat widget to harmonise with your brand. Customise elements such as colours, text, and icon designs.
Configure the language settings for your chat widget and strategically position it on your website.
4. Setting Up Automated Chatbots:
Deploy chatbots to automate responses and engage with visitors, particularly during periods of unavailability.
Develop chatbot scenarios and define triggers that prompt chatbot interactions with visitors.
Tailor chatbot messages and interactions to align seamlessly with your website's unique goals.
5. Managing Users and Roles:
Extend invitations to team members, enabling collaborative efforts within your Tidio account. Assign roles tailored to their responsibilities, granting varying levels of access.
Implement role-based access controls to restrict access to specific features and functions.
6. Configuring Chat Routing and Rules:
Define the routing of incoming chats, directing them either to team members or chatbots, while considering factors such as availability, location, or inquiry type.
Establish rules to automate chat distribution, effectively prioritising urgent inqu

iries.
7. Adding Mailing Features (Optional):
If operating under a paid plan, leverage Tidio's mailing features to execute email campaigns and newsletters. Configure email settings and craft templates that align with your messaging objectives.
Before activating live chat, conduct thorough testing of your chat widget and chatbots to ensure their seamless functionality.
If relevant, provide training to team members, acquainting them with Tidio's usage for effective customer support and engagement.
9. Monitoring and Analytics:
Utilise the Tidio dashboard to monitor visitor interactions, evaluate chatbot performance, and track customer engagement.
Extract valuable insights from data analysis to refine and optimise your chat and automation strategies.
10. Providing Support and Engagement:
With all components in place, commence customer engagement and support through live chat.
Continuously enhance your chatbot scripts and strategies, drawing insights from real-time data and user feedback.
The various alternatives to Tidio are given below along with Chatbot.team being the best chatbot platform or the best alternative to Tidio:
Key Features: Intercom is renowned for its advanced customer engagement tools encompassing live chat, chatbots, and automated messaging. Additionally, it seamlessly integrates with CRM and marketing platforms.
Why Opt for Intercom: Intercom serves as a robust solution ideally suited for businesses seeking to engage with customers through a multitude of channels while delivering personalised support.
Key Features: Formerly known as Zopim, Zendesk Chat offers live chat and messaging solutions enriched with automation features. It harmonises seamlessly with Zendesk's comprehensive customer support suite.
Why Consider Zendesk Chat: If your business is already utilising Zendesk for customer support, Zendesk Chat seamlessly extends your existing workflow, enhancing your customer interaction capabilities.
Key Features: Drift is a specialised conversational marketing platform, excelling in lead generation and real-time customer engagement. It empowers businesses with live chat, chatbots, and email marketing tools.
Why Opt for Drift: Drift is tailor-made for businesses seeking to capture leads and establish personalised interactions with website visitors, creating meaningful engagements.
Key Features: LiveChat is a dedicated live chat software recognized for its user-friendliness and extensive integration options. It specialises in customer support features.
Why Choose LiveChat: LiveChat simplifies the process of adding live chat functionality to your website, providing an efficient and straightforward solution.
Chatbot.team is a versatile chatbot solution with a primary focus on crafting AI-powered chatbots tailored for businesses. Its user-friendly interface facilitates chatbot creation and deployment across diverse platforms.
Why chatbot.team Stands Out:
Consider the following factors that make chatbot.team a compelling choice:
Ease of Use: Designed for accessibility, chatbot.team is user-friendly, catering to users with varying levels of technical expertise.
Customization: It empowers you to finely tailor chatbots to your specific business needs, whether for customer support or lead generation.
Multi-Platform Support: Chatbots developed with chatbot.team can be seamlessly deployed on websites, messaging apps, and more.
AI-Powered: Leveraging AI capabilities, the platform continually enhances chatbot interactions, ensuring improved performance over time.
Cost-Effectiveness: With flexible pricing plans adaptable to various business sizes and requirements, chatbot.team offers a cost-effective solution.
There are numerous compelling reasons to consider chatbot.team as your chatbot solution:
User-Friendly Design: chatbot.team prioritises user-friendliness, ensuring that individuals with limited technical expertise can effortlessly create and deploy chatbots. This accessibility eliminates the need for advanced programming skills.
Tailored Customization: chatbot.team empowers you to customise chatbots to suit your precise business requirements. Whether you're in need of chatbots for customer support, lead generation, or other purposes, you can fine-tune them to perfectly align with your goals.
Cross-Platform
Compatibility: Chatbots developed with chatbot.team can seamlessly operate across various platforms, including websites, messaging apps, and more. This adaptability enables you to engage with your audience on their preferred channels.
AI-Powered Enhancement: chatbot.team integrates AI capabilities, enabling your chatbots to continuously enhance their interactions over time. This iterative learning process leads to more efficient and effective customer engagements as chatbots evolve with each interaction.
Cost-Efficiency: chatbot.team offers flexible pricing plans tailored to your specific requirements. This adaptability makes it a cost-effective solution suitable for businesses of diverse sizes and budget constraints.
Versatility: chatbot.team's versatility empowers you to craft chatbots for a wide spectrum of purposes. Whether you require chatbots to address customer inquiries, automate lead generation, or provide support, chatbot.team can adapt to fulfil your needs.
Real-Time Engagement: With chatbot.team, you can engage with your audience in real time. This real-time interaction capability enables you to deliver timely responses and support, elevating the overall customer experience.
Scalability: chatbot.team's scalability ensures that it can grow with your business. You have the flexibility to create and deploy additional chatbots or expand the functionalities of existing ones to accommodate your organisation's evolving needs.
Seamless Integration: chatbot.team may offer integration capabilities with other tools and platforms. This integration streamlines your workflow and enables you to connect your chatbots with existing systems seamlessly.
Customer Support: Depending on your requirements, chatbot.team may provide customer support services. These services can assist you in resolving questions or challenges encountered during the chatbot development and deployment journey.
Choosing chatbot.team offers the advantage of accessibility, adaptability, and versatility, making it a robust solution for businesses aiming to harness the power of chatbots to enhance customer interactions and streamline operations.
Tidio and chatbot.team represent two distinct solutions with unique purposes in the realm of customer engagement and automation. Below, a comparative analysis of Tidio and Chatbot.team to elucidate their fundamental disparities are given:
Core Function: Tidio primarily serves as a live chat and chatbot platform, catering to businesses seeking real-time engagement with customers and website visitors.
Features: Tidio offers a suite of features encompassing live chat functionality, chatbot capabilities, and mailing features. It facilitates real-time communication, automated responses, and the execution of email campaigns.
User-Friendly: Tidio is thoughtfully designed for ease of use, ensuring accessibility for users with varying technical proficiencies.
Customization: While Tidio does provide certain customization options, its level of customization may not be as extensive as specialised chatbot platforms.
Integration: Tidio boasts integration capabilities with various platforms, but the extent of compatibility with specific software and tools may vary. Businesses should verify whether Tidio supports their essential integrations.
Pricing: Tidio offers a range of plans, including both free and paid options. However, its pricing structure can be relatively steep, particularly for small businesses and startups.
Core Function: Chatbot.team specialises in the creation of AI-powered chatbots tailored for businesses. Its primary focus lies in chatbot development and deployment across diverse platforms.
Features: Chatbot.team's central emphasis revolves around chatbot creation and extensive customization. It places a premium on user-friendly design, adaptability, and the versatility to craft chatbots for multifarious purposes.
User-Friendly: Chatbot.team is engineered to be highly user-friendly, ensuring accessibility for individuals with limited technical expertise.
Customization: Chatbot.team offers a robust platform for comprehensive chatbot customization, empowering businesses to align chatbots precisely with their unique requirements, be it for customer support or lead generation.
Integration: Chatbot.team may provide integration capabilities, enabling businesses to seamlessly connect chatbots with other tools and platforms as needed.
Pricing: chatbot.team typically offers flexible pricing plans, making it a cost-effective solution that accommodates businesses of varying sizes and budgetary constraints.
Use Case: Your choice between Tidio and chatbot.team should hinge upon your specific use case. Tidio is apt for those primarily seeking live chat and communication tools, while chatbot.team excels in creating and deploying customised chatbots.
Customization: If extensive chatbot customization is paramount to your business, chatbot.team offers a more versatile solution in this regard.
Budget: Consider your budgetary constraints, as Tidio's pricing may be comparatively higher than chatbot.team's, which provides potentially more budget-friendly plans.
In summary, Tidio is a versatile customer engagement platform that encompasses live chat, chatbot, and email marketing tools. While it offers advantages like real-time communication and automation, it does have its limitations, including pricing and customization constraints. Therefore, businesses should thoroughly assess their unique needs and budget to determine if Tidio aligns with their customer engagement strategy. Furthermore, alternative solutions like chatbot.team offer a user-friendly and customizable approach to chatbot development, appealing to businesses looking for enhanced flexibility and cost efficiency. Ultimately, the decision between Tidio and chatbot.team hinges on individual business requirements and objectives.
FREQUENTLY ASKED QUESTIONS (FAQs)